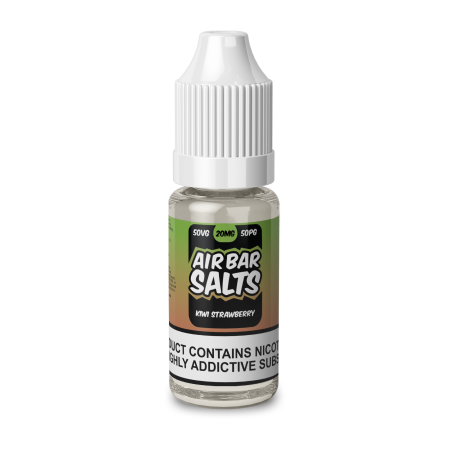 Air Bar Salts Kiwi Strawberry
Kiwi Strawberry 10ml Nic Salt by Air Bar Salts is a classic fruit blend. The ripe-tasting strawberry flavour creates a sweet base that's complemented by the tangy taste of kiwi. The two fuse to create a balanced vape.
Air Bar Salts have been created in a UK Flavour House, the flavours have been crafted to resemble the much Loved disposable Elf Bars and Elux Bars. Air Bar Salts are a 50/50 PG/VG Mix with Salt Nicotine creating a smooth throat hit.
 
10ml bottles
5mg, 10mg and 20mg nicotine strengths
Salt nicotine blends
50% VG / 50% PG
Designed for mouth to lung vape kits
Made in the UK
Recyclable bottle
Childproof cap
Tamper evident seal
Our products are designed for adults 18 years of age and over.  All our e-liquids, with the exception of the 0mg eliquids, contain nicotine which is a highly addictive substance.  Nicotine containing products should not be used by pregnant or breastfeeding women or persons of ill health.  Our products are not for sale or use by anyone under the age of 18.  E-cigarettes and nicotine containing products should always kept out of reach of children.
---
Products Related to Air Bar Salts Kiwi Strawberry
---