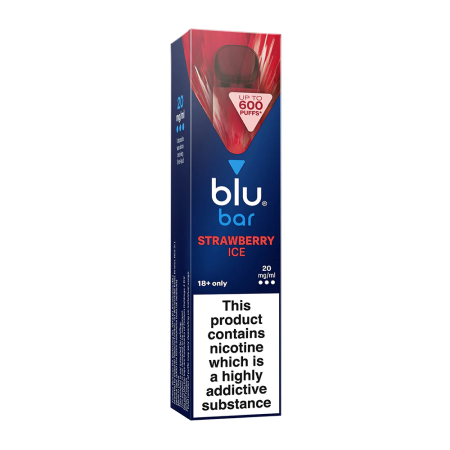 Blu Bar by MyBlu Strawberry Ice
Blu Bar Strawberry Ice by MyBlu, captures the essence of juicy strawberries with notes of frozen menthol. Simple and fresh with a rich undertone.
The Blu Bar disposable by MyBlu is easy and convenient to use. Pre-filled with nicotine salt e-liquid, this small and compact vape pen is great for beginner vapers who are switching from smoking. The 400mAh battery capacity and 2ml e-liquid capacity mean the device can last for up to 600 puffs. 
Product features
400mAh battery
2ml e-liquid capacity
Puff count: up to 600
20mg nicotine salt
Draw activated
Choice of Flavours
What's included
1 x Blu Bar Disposable Vape 
Use according to instructions and ensure that the product is out of reach to children. Please note that this product may also contain traces of nuts. 
Our products are designed for adults 18 years of age and over.  All our e-liquids, with the exception of the 0mg eliquids, contain nicotine which is a highly addictive substance.  Nicotine containing products should not be used by pregnant or breastfeeding women or persons of ill health.  Our products are not for sale or use by anyone under the age of 18.  E-cigarettes and nicotine containing products should always kept out of reach of children.
---
Products Related to Blu Bar by MyBlu Strawberry Ice
---