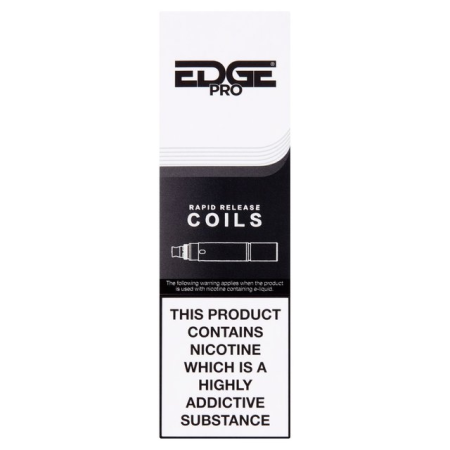 Edge Pro Replacement Coils
The Pro Coils by EDGE have been constructed from ​​SS316L and expertly designed for use with the EDGE Pro Kit which supports a Mouth-to-Lung style of vaping. Each coil comes with a fresh mouthpiece, ensuring the highest level of hygiene and satisfaction.
Available in a 1.2ohm resistance, these coils include an innovative patented Rapid Replace Coil system which allows for easy swaps without any e-liquid spillage. When it's time to replace your coils, simply screw in your new coil and you'll be all set. Also included with these vape coils is a comfortable and hygienic mouthpiece for maximum satisfaction with every draw. 
Product Features:
Suitable for use with the EDGE Pro Kit
MTL 1.2ohm coils
SS316L construction
Rapid Replace Coil System
Ergonomic mouthpiece
Contents:
2 x EDGE Pro Coils 
Our products are designed for adults 18 years of age and over.  All our e-liquids, with the exception of the 0mg eliquids, contain nicotine which is a highly addictive substance.  Nicotine containing products should not be used by pregnant or breastfeeding women or persons of ill health.  Our products are not for sale or use by anyone under the age of 18.  E-cigarettes and nicotine containing products should always kept out of reach of children.
---
Products Related to Edge Pro Replacement Coils
---