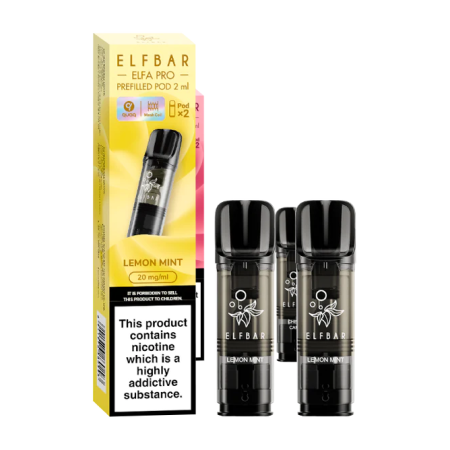 Elf Bar Elfa PRO Pods Lemon Mint
Lemon Mint Elfa Pro pods are designed for use with the Elfa Pro and Elfa pod vape kits. Each pod contains 2ml of e-liquid which provides up to 600 puffs. Blended with nic salts, they'll provide a smooth throat hit while satisfying cravings quickly.
Elfa Pro pods are designed for use with the Elfa Pro and Elfa pod vape kits.
Elfa Pro pod flavours are inspired by the best-selling blends found in Elf Bar disposable vapes. This pack of two pods makes a good choice if you're vaping on a budget, as each one provides the same amount of puffs as a disposable, but at a fraction of the price.
Features:
Elf Bar Elfa Pod

20mg Nic Salt

50% VG / 50% PG

MTL Vaping

2ml Of E-Liquid Per Pod

No Maintenance Required
These pods are compatible with both the Elfa Pro Pod Kit and the Elfa Pod Kit. Activate each pod by pushing down on the base before you start using it.
Elfa Pro pods feature a freshness seal which keeps the e-liquid separate from the coil until you're ready to start vaping. To activate your pod, just push up on the black seal at the base before inserting it into your device. Your pod can simply be disposed of when it runs out, so there are no refills or coil changes to worry about. Inside each pod is a 1.2 Ohm QUAQ mesh coil, which features an ultra-fine mesh and absorbent wick to heat e-liquid quickly and evenly for improved flavour.
Contains:
2 x Elf Bar Elfa Prefilled Pod
Our products are designed for adults 18 years of age and over.  All our e-liquids, with the exception of the 0mg eliquids, contain nicotine which is a highly addictive substance.  Nicotine containing products should not be used by pregnant or breastfeeding women or persons of ill health.  Our products are not for sale or use by anyone under the age of 18.  E-cigarettes and nicotine containing products should always kept out of reach of children.
---
Products Related to Elf Bar Elfa PRO Pods Lemon Mint
---