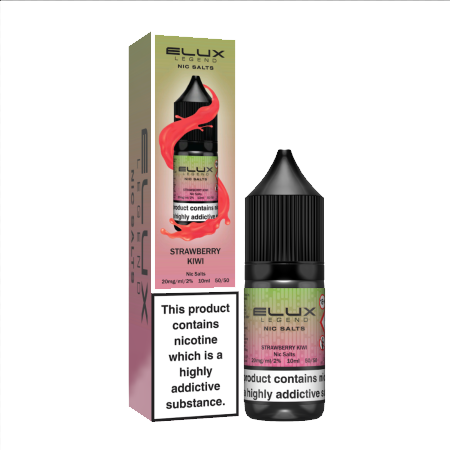 Elux Nic Salt E-liquid - Strawberry Kiwi
Elux Nic Salt E-Liquid Strawberry kiwi
Lose yourself in the sweet embrace of luscious Strawberry and tangy Kiwi. This dynamic duo creates a fruit-forward explosion of flavour that's both vibrant and satisfying, setting a new standard for fruity e-liquids.
10ml bottles
10mg and 20mg nicotine strengths
Salt nicotine blends
50% VG / 50% PG
Designed for mouth to lung vape kits
Recyclable bottle
Childproof cap
Tamper evident seal
We suggest pairing this blend with an MTL (Mouth To Lung) device like most
pod kits and vape pens.
Contains
1x10ml E-liquid 
Our items are intended for people aged 18 and up. Except for the 0mg eliquids all of our e-liquids contain nicotine, a highly addictive ingredient. Pregnant or breastfeeding women, as well as people in poor health should avoid using nicotine containing products. Anyone under the age of 18 is not permitted to purchase or use our items. E-cigarettes and nicotine containing goods should always be kept out of children's reach.
---
Products Related to Elux Nic Salt E-liquid - Strawberry Kiwi
---