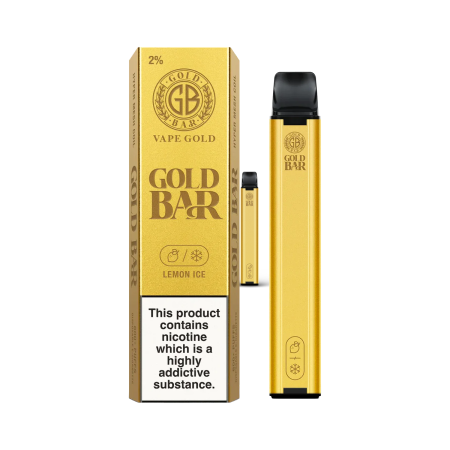 Gold Bar Disposable Vape - Lemon Ice
The Lemon Ice Gold Bar disposable vape is the ideal choice for anyone looking for a pocket-friendly device that needs no maintenance. It's ready to use right out of the box, and when one runs out, you can simply replace it with a new device.
The Gold Bar Disposable Vape Kit, by Vape Gold, sets a new standard in the vaping industry, combining premium materials and enhanced craftsmanship to deliver a superior and exquisite flavour. 
Featuring a built-in 500 mAh battery, the Gold Bar is designed to provide up to approximately 600 puffs, with a prefilled 2 ml e-liquid pod containing nicotine salt e-liquid and incorporates a built-in hyper mesh coil technology for a premium, superior vaping experience. 
This device is currently available in 20 mg (2%) nicotine strength, with up to 22 mixed fruit and menthol-based flavours to choose from. 
Each Gold Bar disposable device comes ready to vape with a 500 mAh battery and a pre-filled pod with 2ml of e liquid, which will last up to 600 puffs. That's about 20 cigarettes worth! After a while, your vape will start to lose some flavour and will produce less vapour, then as the juice is used up the battery will run out. 
Features
Beginner Friendly Disposable Vape
600 Puffs
Inhale Activated
Range Of Flavours
20mg Nicotine Salt Strength
2ml E-Liquid
Contains
1 x Gold Bar Disposable Vape 
Our products are designed for adults 18 years of age and over.  All our e-liquids, with the exception of the 0mg eliquids, contain nicotine which is a highly addictive substance.  Nicotine containing products should not be used by pregnant or breastfeeding women or persons of ill health.  Our products are not for sale or use by anyone under the age of 18.  E-cigarettes and nicotine containing products should always kept out of reach of children.
---
Products Related to Gold Bar Disposable Vape - Lemon Ice
---