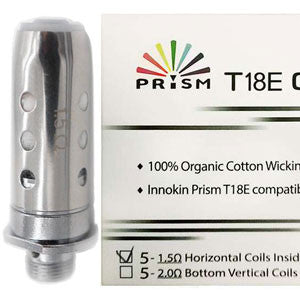 Innokin T18e Prism Coils 1.5ohms 5pk
The Innokin T18e Prism Coils are designed for use with Innokin's T18e Starter Kit, as well as Innokin's T22e Kit.
They feature a 1.5ohm resistance, and are suited for mouth-to-lung style vaping.
Please note: These Prism coils are not compatible with the standard T18 or T22 tanks.
Our products are designed for adults 18 years of age and over.  All our e-liquids, with the exception of the 0mg eliquids, contain nicotine which is a highly addictive substance.  Nicotine containing products should not be used by pregnant or breastfeeding women or persons of ill health.  Our products are not for sale or use by anyone under the age of 18.  E-cigarettes and nicotine containing products should always kept out of reach of children.
---
Products Related to Innokin T18e Prism Coils 1.5ohms 5pk
---