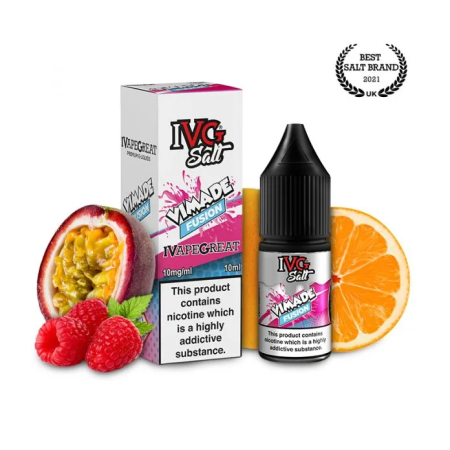 IVG 10ml Nic Salts - Vimade
IVG Nic Salts Vimade
The busting flavours of Raspberry, Orange & Passionfruit. A delicious taste sensation
They have a 50/50 VG/PG concentration, meaning that they're ideal for MTL (Mouth To Lung) vaping, which mimics the feel of a cigarette and produces a discreet amount of vapour.
IVG e-liquids are made right here in the UK. Their range of shortfills, freebase and nic salts come in all kinds of dessert, fruit and drink blends - there's something for everyone.
10ml Salt Nicotine E-Liquid
10mg & 20mg Strength
50% VG / 50% PG
Created For MTL Vape Kits
Made In The UK
TPD Compliant
Childproof Caps
Tamper Evident Seal
Recyclable Bottle
Looking to buy a new vape kit, then click this link.
Our products are designed for adults 18 years of age and over.  All our e-liquids, with the exception of the 0mg eliquids, contain nicotine which is a highly addictive substance.  Nicotine containing products should not be used by pregnant or breastfeeding women or persons of ill health.  Our products are not for sale or use by anyone under the age of 18.  E-cigarettes and nicotine containing products should always kept out of reach of children.
---
Products Related to IVG 10ml Nic Salts - Vimade
---