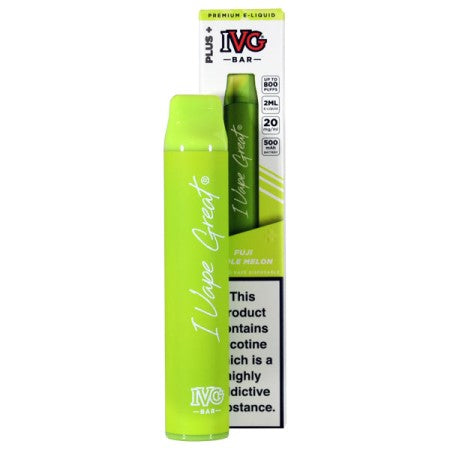 IVG Disposable Air Bar Plus - Fuji Apple Melon
IVG Bar Plus Fuji Apple Melon has been redesigned and now comes with 600 puffs and a hybrid airflow system for even better flavour consistency and a longer-lasting vape. It is easy to use, no refilling is required, and is designed ergonomically for comfort. Simply inhale to vape. A crisp flavour of Japanese apples complemented with the juicy taste of melon.
Designed to be compact and light, the IVG Bar Plus+ features 22 award winning flavours. It can also be used as a backup device since batteries last approximately 600 puffs with the 550mAh pure cobalt Mah batteries. 
Features:
2ml capacity
Up to 600 puff
550mAh Battery
Rubber ergonomic design
20MG
Contents:
1 x Pre-filled IVG Bar - Fuji Apple Melon - Pod Device 
Our products are designed for adults 18 years of age and over.  All our e-liquids, with the exception of the 0mg eliquids, contain nicotine which is a highly addictive substance.  Nicotine containing products should not be used by pregnant or breastfeeding women or persons of ill health.  Our products are not for sale or use by anyone under the age of 18.  E-cigarettes and nicotine containing products should always kept out of reach of children.
---
Products Related to IVG Disposable Air Bar Plus - Fuji Apple Melon
---