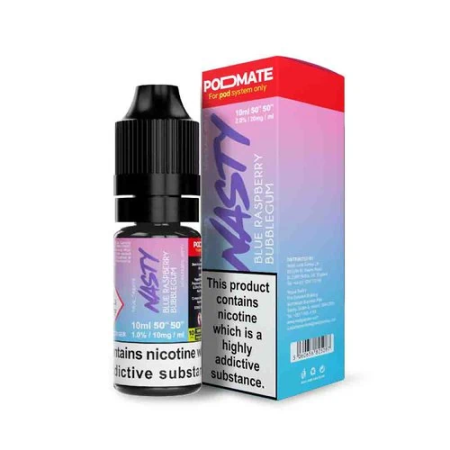 Nasty Pod Mate 10ml Nic Salts - Blueberry Raspberry Bubblegum
Nasty Pod Mate Blue Raspberry Bubblegum Salts is delicious Blue raspberry candy flavour with a hint of Bubblegum. This flavour will make you want more and more.
Nasty Pod Mate Blue Raspberry Bubblegum Salts is Specially Formulated using the Best Ingredients, to deliver nicotine faster. 
Features
100% Genuine Premium Brand made E liquid professionally mixed to produce out of this world flavours!
Delivers a deep flavour and is suitable for all Pod devices or in a low wattage devices guaranteeing you a great vaping experience.
Manufactured by BRC Certified manufacturers with good long-standing reputations in the food industry, in an ISO Class 8 Certified Clean-Room under the standards and guidelines of a qualify management system certified to ISO 9001:2015!
All Nasty Juice flavours have been developed using the most prestigious flavour houses in the world for skilful creation and consistent production of exquisite flavours.
Designed with the child lock, it can avoid the misuse by children. The Pin tip and the easy squeezable bottles help you pour the liquid into the tanks in a safe and easy way.
Salt Based Nicotine
TPD Complaint
Available in 10 and 20mg nicotine strength
Chubby Gorilla Bottle
Contains 10 ml of Nasty Salts e-liquid
Child Proof Safety Cap
Our products are designed for adults 18 years of age and over.  All our e-liquids, with the exception of the 0mg eliquids, contain nicotine which is a highly addictive substance.  Nicotine containing products should not be used by pregnant or breastfeeding women or persons of ill health.  Our products are not for sale or use by anyone under the age of 18.  E-cigarettes and nicotine containing products should always kept out of reach of children.
---
Products Related to Nasty Pod Mate 10ml Nic Salts - Blueberry Raspberry Bubblegum
---