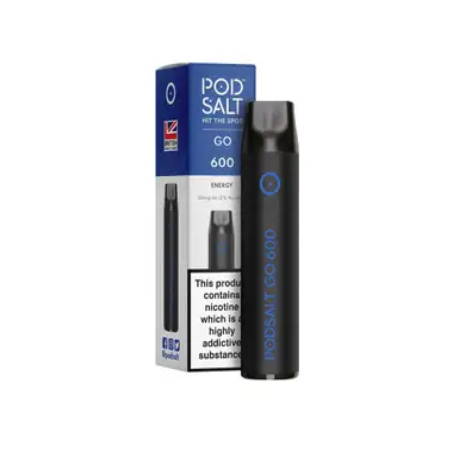 Pod Salt Go 600 Puff Bar - Energy
POD SALT GO 600 ENERGY DISPOSABLE DEVICE 2ML - 20MG/ML
Reminiscent of your favourite energy drink, feel instantly refreshed by this blend of flavours including tangy citrus.
Pod Salt Go 600 is our disposable vape designed for functionality and portability; and this time it's been improved! This slim and stylish vape device is available in a range of our core flavours blended with our award-winning nicotine salt. 
Using the latest technology, our range of disposable devices, Pod Salt Go, has evolved with a more powerful 400mAh battery that provides 600 puffs with every device. Keep vaping and enjoy our quality flavours and nicotine salts for longer. 
Each device contains 2ml of E-Liquid. 
Nicotine salt is the revolutionary way to get your nicotine fix with a fast absorption, higher strength and gentler on the throat than traditional freebase nicotine. Perfect for those looking to make the switch from smoking to vaping 
In The Box
1 x Pod Salt Go 600 Disposable Vape
20mg Strength 
Our products are designed for adults 18 years of age and over.  All our e-liquids, with the exception of the 0mg eliquids, contain nicotine which is a highly addictive substance.  Nicotine containing products should not be used by pregnant or breastfeeding women or persons of ill health.  Our products are not for sale or use by anyone under the age of 18.  E-cigarettes and nicotine containing products should always kept out of reach of children.
---
Products Related to Pod Salt Go 600 Puff Bar - Energy
---