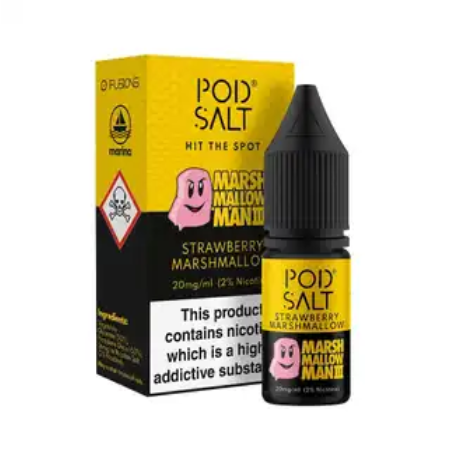 Pod Salts Fusions - Marshmallow Man 3 - 10ml Nic Salt Eliquid
POD SALT MARINA MARSHMALLOW MAN 3 10ML NICOTINE SALT E-LIQUID FUSION
A smooth and creamy blend of fluffy marshmallows and strawberries for an indulgent and fruity vape. Finished with a touch of sweet vanilla. If you like your dessert vapes, you're going to love Marshmallow Man III.
This Marshmallow Man III Nicotine Salt E-liquid is a Fusions collaboration by Pod Salt and Marina. An original and exclusive flavour for an all-day vaping experience. In the third instalment of Marina's Marshmallow Man trilogy, Marshmallow Man III lives up to its name.
Strengths Available 11mg and 20mg 
1 x 10ml Bottle 
Our products are designed for adults 18 years of age and over.  All our e-liquids, with the exception of the 0mg eliquids, contain nicotine which is a highly addictive substance.  Nicotine containing products should not be used by pregnant or breastfeeding women or persons of ill health.  Our products are not for sale or use by anyone under the age of 18.  E-cigarettes and nicotine containing products should always kept out of reach of children.
---
Products Related to Pod Salts Fusions - Marshmallow Man 3 - 10ml Nic Salt Eliquid
---