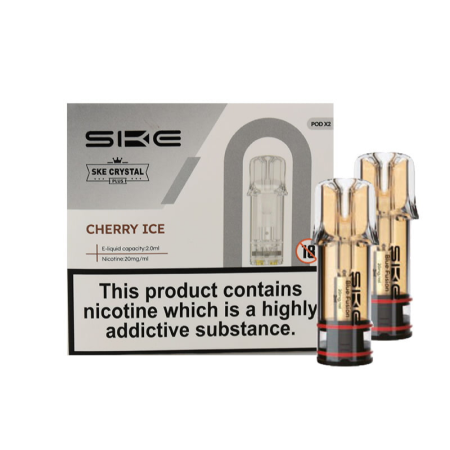 SKE Crystal Plus Pods - Cherry Ice
This SKE Crystal Plus Cherry Ice prefilled pod features one of the most popular Crystal flavours, capturing sweet juicy notes of Cherry with a hint of ice to create a tasty and satisfying vape experience throughout with a fruity aftertaste!
The SKE Crystal Plus is an easy to use pod kit, there's no need for complicated menus or awkward buttons as it is simply inhale activated. Meaning all you need to do is inhale on the mouthpiece to activate your kit.
Each SKE Crystal Plus is filled with 2ml premium e liquid which gives users approx 600 puffs from each one – that's far more than 20 cigarettes. Fitted with a mesh coil in every pod heats the e liquid quicker and gives a fuller flavour and a smoother throat hit. The SKE Crystal Plus comes with a fast USB-C charging port which aims to charge the device in around 30 minutes.
Features:
2ml Tank (Per Pod)

Approx 600 Puffs (Per Pod)

2% Nicotine (Per Pod)

Mesh Coil

Stylish Vape Kit Design
Box Content:
2x SKE Crystal Plus Prefilled Pod
Our items are intended for people aged 18 and up. Except for the 0mg eliquids all of our e-liquids contain nicotine, a highly addictive ingredient. Pregnant or breastfeeding women, as well as people in poor health should avoid using nicotine containing products. Anyone under the age of 18 is not permitted to purchase or use our items. E-cigarettes and nicotine containing goods should always be kept out of children's reach.
---
Products Related to SKE Crystal Plus Pods - Cherry Ice
---