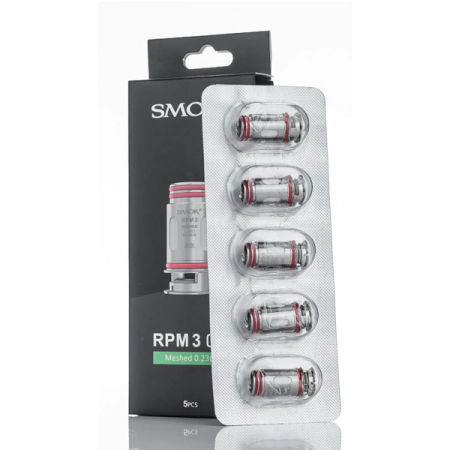 Smok RPM3 Replacement Coils
SMOK RPM 3 REPLACEMENT COILS
Replacement coils for the SMOK RPM 5 Pod Mod Kit and the SMOK RPM 5 PRO Pod Mod Kit.

Available in two resistances both being mesh construction to produce great flavour and dense clouds, the 0.15ohm Offers a fast ramp up time, better flavour and massive vapour and is rated between 40-80w whilst the 0.23ohm coil is a little subtle offering a smooth and rich flavour and provides a more even heat surface for a more consistent vape style and is rated between 20-25w.
 
The new mesh technology is adopted to enhance the flavour more efficiently, due to the enlarged meshed surface area, which not only increases the atomisation area, but also improves the heating speed.
 
Types
RPM 3 Meshed 0.15 ohm coil - 40-80w
RPM 3 Meshed 0.23 ohm coil - 20-25w
In the Box

Pack of 5 Replacement Coils
Our products are designed for adults 18 years of age and over.  All our e-liquids, with the exception of the 0mg eliquids, contain nicotine which is a highly addictive substance.  Nicotine containing products should not be used by pregnant or breastfeeding women or persons of ill health.  Our products are not for sale or use by anyone under the age of 18.  E-cigarettes and nicotine containing products should always kept out of reach of children.

---
Products Related to Smok RPM3 Replacement Coils
---