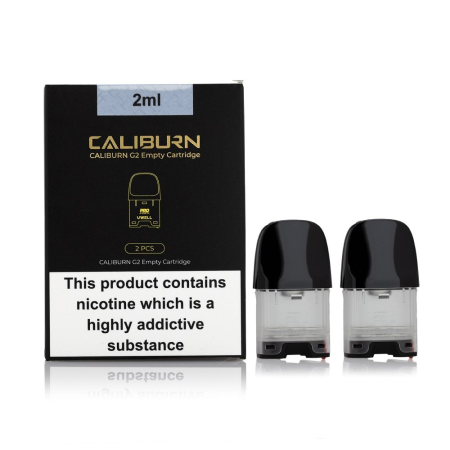 UWELL Caliburn G2 Replacement Pods
The Uwell Caliburn G2 refillable pods are compatible with the
Uwell Caliburn G2 pod kit
. Capable of holding up to 2ml of e-liquid, these refillable pods give you the option of pairing your kit with any Flavour or nicotine strength - for a vape that suits you. Designed for MTL (Mouth To Lung) vaping, when paired with the Caliburn G coils these pods create a small amount of vapour and allow for an inhale that feels like a cigarette. 
Features:
Refillable 2ml Pods
Top Filling
Adjustable Airflow
Removable Coils
MTL Vaping
The G2 pods feature a top filling design and all you need to do to refill is remove the mouthpiece. These pods also feature an adjustable airflow wheel that makes it easy for you to swap between a tight or loose inhale. When it comes to choosing an e-liquid, you can use 50/50 and high PG e-liquids. Nic salts are a popular choice as they also create a smooth throat hit. 
In The Box:
2 x Uwell Caliburn G2 2ml Refillable Pods  
Our products are designed for adults 18 years of age and over.  All our e-liquids, with the exception of the 0mg eliquids, contain nicotine which is a highly addictive substance.  Nicotine containing products should not be used by pregnant or breastfeeding women or persons of ill health.  Our products are not for sale or use by anyone under the age of 18.  E-cigarettes and nicotine containing products should always kept out of reach of children.
---
Products Related to UWELL Caliburn G2 Replacement Pods
---