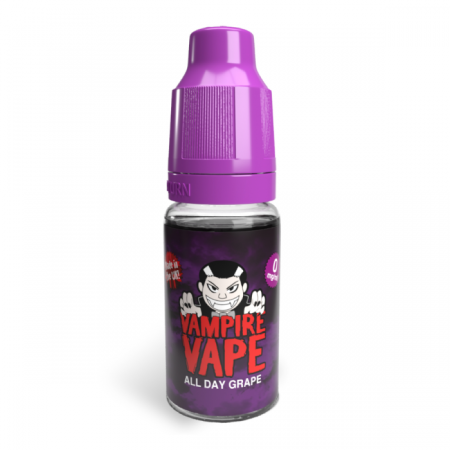 Vampire Vape Eliquid 10ml All Day Grape
Vampire Vape 10ml 
E-Liquid £2.50 each - All Day Grape
Refresh your palate with the taste of All Day Grape. Sweet and juicy grape flavours followed by an intense ice-cold after taste, perfect for those who love a fruit and menthol hit. This exclusive concoction is a strong all day vape contender.
Please note PG/VG ratio differs for nicotine strengths: 
10ml bottle 
0mg, 6mg, 12mg, 18mg nicotine strengths - 60PG/40VG 
3mg nicotine strength - 50VG/50PG  
Our products are designed for adults 18 years of age and over.  All our e-liquids, with the exception of the 0mg eliquids, contain nicotine which is a highly addictive substance.  Nicotine containing products should not be used by pregnant or breastfeeding women or persons of ill health.  Our products are not for sale or use by anyone under the age of 18.  E-cigarettes and nicotine containing products should always kept out of reach of children.
---
Products Related to Vampire Vape Eliquid 10ml All Day Grape
---