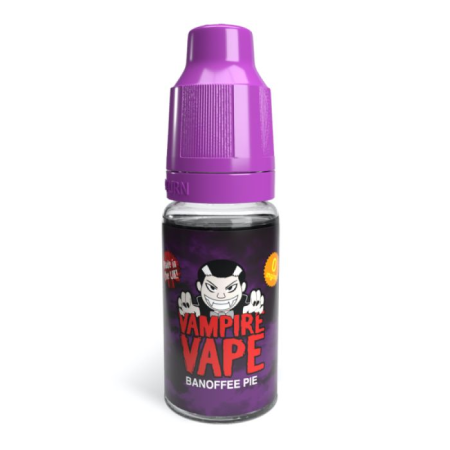 Vampire Vape Eliquid 10ml Banoffee Pie
Banoffee Pie e-liquid is a sweet dessert flavoured juice filled with the taste of ripe banana. Taste the sugary toffee blend as the rich treacle biscuit taste hits your tongue, leaving you with a sweetened after taste. Banoffee Pie 10ml e-liquid comes in a handy 10ml bottle and has a strong throat hit, which is great for those making the switch.
Please note PG/VG ratio differs for nicotine strengths:
10ml bottle
0mg, 6mg, 12mg & 18mg nicotine strengths – 40VG/60PG
3mg nicotine strength – 50VG/50PG
We suggest pairing this blend with an MTL (Mouth To Lung) device like most
pod kits and vape pens
. 
Our products are designed for adults 18 years of age and over.  All our e-liquids, with the exception of the 0mg eliquids, contain nicotine which is a highly addictive substance.  Nicotine containing products should not be used by pregnant or breastfeeding women or persons of ill health.  Our products are not for sale or use by anyone under the age of 18.  E-cigarettes and nicotine containing products should always kept out of reach of children.
---
Products Related to Vampire Vape Eliquid 10ml Banoffee Pie
---