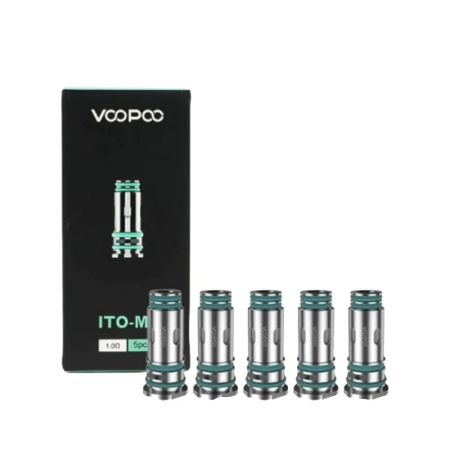 Voopoo ITO Replacement Coils
The VooPoo ITO replacement coils are for use with the ITO pod or ITO X pod as part of the VooPoo Doric 20 or the VooPoo Drag Q kit. There are two types of MTL (Mouth To Lung) coil available, including a 1.2 Ohm and a 1.0 Ohm version. However, if you prefer a little more vapour, there's a 0.5 Ohm one for DTL (Direct To Lung) vapers.
Features:
MTL & DTL Vaping
Mesh Build
Multiple Resistances
High PG & High VG Compatible
M0 - 0.5 Ohm coil 18 - 25W
M2 - 1.0 Ohm coil 10 - 14W
M3 - 1.2 Ohm coil 8 - 12W
M1 - 0.7 Ohm Coil
Contains:
5 x VooPoo ITO Coil  
Our products are designed for adults 18 years of age and over.  All our e-liquids, with the exception of the 0mg eliquids, contain nicotine which is a highly addictive substance.  Nicotine containing products should not be used by pregnant or breastfeeding women or persons of ill health.  Our products are not for sale or use by anyone under the age of 18.  E-cigarettes and nicotine containing products should always kept out of reach of children.
---
Products Related to Voopoo ITO Replacement Coils
---