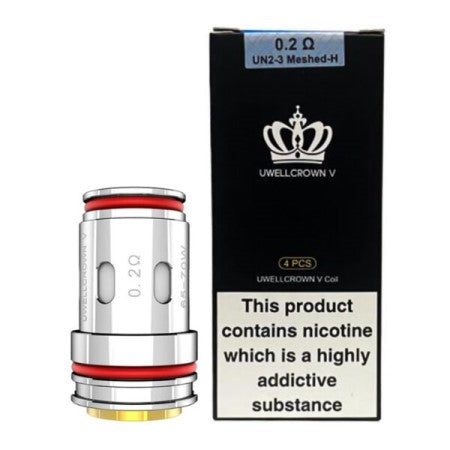 Uwell Crown 5 Replacement Coils
The Uwell Crown 5 replacement coils have been designed for use with the Uwell Crown 5 vape tank. There are three varieties of this coil available, all of which have been designed to support sub ohm vaping and feature mesh builds to improve both flavour and vapour production. When it comes to e-liquid we recommend pairing them with a high VG e-liquid that is 70% VG or higher.
Features:
Uwell Crown 5 Coils
Designed For Sub Ohm Vaping
Multiple Resistances
Mesh Builds
Compatible With High VG E-Liquid
The 0.2 Ohm Crown 5 coils feature the lowest resistance and rely on a triple mesh build to deliver the highest level of vapour production. Capable of being used between 65 - 70W these coils can be supported by a range of sub ohm vape devices. 
The 0.3 Ohm Crown 5 coils, on the other hand, feature a dual mesh build and their slightly higher resistance are more suited to delivering a balance of flavour and vapour production. They can be used between 50 - 55W. 
The 0.23 Ohm Crown 5 coils offer a mid-point between the two. They utilise a single mesh build that still delivers better flavour from e-liquids but produces slightly more vapour than the 0.2 Ohm coils. They can be used between 65 - 70W. 
Contains:
5 x Uwell Crown 5 Coils  
Our products are designed for adults 18 years of age and over.  All our e-liquids, with the exception of the 0mg eliquids, contain nicotine which is a highly addictive substance.  Nicotine containing products should not be used by pregnant or breastfeeding women or persons of ill health.  Our products are not for sale or use by anyone under the age of 18.  E-cigarettes and nicotine containing products should always kept out of reach of children.
---
Products Related to Uwell Crown 5 Replacement Coils
---