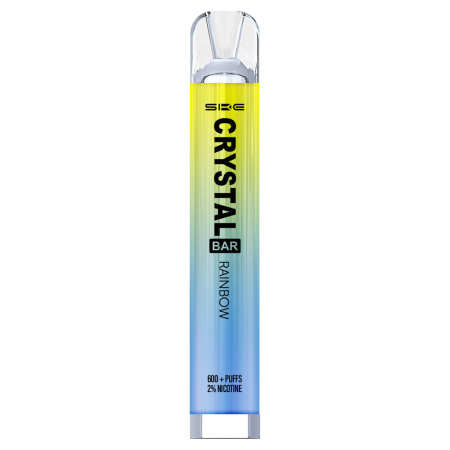 SKE Crystal Disposable Vape Bar - Rainbow
The SKE Crystal Bar Rainbow Disposable Vape Pod encapsulates delightful candy undertones complemented by subtle sugary accents and hints of mixed fruit flavours, resulting in an incredibly enjoyable vaping experience with a fruity exhalation. This sweet and nostalgic combination will captivate the palates of anyone who gives it a try!
Features
Leading Disposable Vape Brand worldwide
TPD Compliant
Sleek attractive unique design & packaging
Good portability
500 mAh Battery
Approx 600 puffs
Stylish Vape Pod Design

20mg Nicotine Strength

Inhale Activated
SKE Crystal Bar Disposable Vape Pods is a fantastic brand that features a concentration ratio of 50% VG (Vegetable Glycerine) and 50% Mixed PG (Propylene Glycol) high-quality food flavourings and Salt nicotine. A perfect device for on-the-go MTL (Mouth to Lung) vaping! 
Box Content:
1x SKE Crystal Bar Disposable Vape  
Our products are designed for adults 18 years of age and over.  All our e-liquids, with the exception of the 0mg eliquids, contain nicotine which is a highly addictive substance.  Nicotine containing products should not be used by pregnant or breastfeeding women or persons of ill health.  Our products are not for sale or use by anyone under the age of 18.  E-cigarettes and nicotine containing products should always kept out of reach of children.
---
Products Related to SKE Crystal Disposable Vape Bar - Rainbow
---