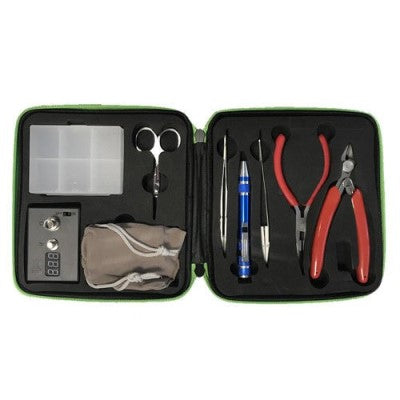 Premier Vaping DIY Toolkit - Free UK Delivery
The Premier Vaping Coil Building Tool Kit is everything you need to start wrapping your own professional vaping coils. Packaged in a stylish zip-up carry case, the V2 Tool Kit includes every tool you will need to create those perfect coils in no time.
This tool kit was designed specifically for vapers, by  vapers and is an essential product for those planning on making their own  coils. There are literally endless possibilities when it comes to coil building,  with a different style or wire creating different resistances and vaping  properties. The Premier Vaping Coil Building Tool Kit (V2) contains all the equipment  you will require to safely build amazing vape coils.
The kit includes the following items:
1 x Needle-Nose Pliers
1 x Scissors
1 x Coil Jig Set (3 Sizes)
1 x White Ceramic Tweezers
1 x Scimitar Stainless Steel Tweezers
1 x Pen Style Screwdriver kit (Blue or Black)
1 x Electronics Ohm Meter (batteries not  included)
1 x Wire Cutters
1 x Flannelette Bag
1 x Coil Storage Case
1 x Portable Zipper Case
---
Products Related to Premier Vaping DIY Toolkit - Free UK Delivery
---