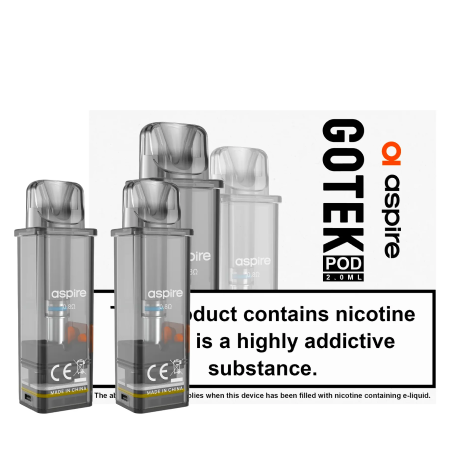 Aspire Gotek X Replacement Pods
The Aspire Gotek X refillable pods were created to work with the Aspire Gotek X Pod Vape Kit. Each refillable pod can carry up to 2ml of eliquid and emits a modest quantity of vapour, allowing for mouth to lung vaping. We recommend combining this pod with a high PG eliquid with a PG content of 60% or more.
Features:
Aspire Refillable Pod

2ml E-Liquid Capacity

Supports Mouth To Lung Vaping

Compatible with High PG E-Liquid

Featuring a built in 0.8 Ohm coil
Refilling is a simple and clean task, thanks to the removable silicon bung, which also prevents leaks from occurring when the pod is used and stored. Featuring a built in 0.8 Ohm coil, this pod delivers better flavour from eliquid because of the mesh coil structure. Each pod can be refilled multiple times before needing to be replaced.
Contains:
2 x Aspire Gotek X 2ml Refillable Pods
Our items are intended for people aged 18 and up. Except for the 0mg eliquids all of our e-liquids contain nicotine, a highly addictive ingredient. Pregnant or breastfeeding women, as well as people in poor health should avoid using nicotine containing products. Anyone under the age of 18 is not permitted to purchase or use our items. E-cigarettes and nicotine containing goods should always be kept out of children's reach.
---
Products Related to Aspire Gotek X Replacement Pods £4.89 each
---