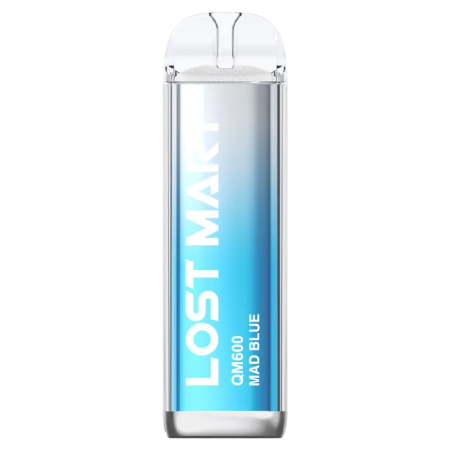 Lost Mary QM600 Disposable Vape - Mad Blue
Lost Mary QM600 Mad Blue Disposable Vape
Mad Blue from Lost Mary is mouth-watering medley of three delicious berries. Rich blueberry, sharp blackberry and tangy raspberry all come together to create a deliciously jammy, aromatic and utterly moreish all-day vape.

The Lost Mary QM600 Disposable Kit provides a superior flavour with its advanced mesh coil technology and built-in 550 mAh built-in battery. Available in 18 different flavours, each QM600 device aims to deliver up to approximately 600 puffs of 20 mg nicotine salt e-liquid.
 
Lost Mary QM600 Puffs Disposable bar Vapes are pocket-friendly disposable vape kits that are pre-filled with 20mg nicotine salt e-liquid. QM600 Comes with QUAD Technology and a built in Mesh Coils for improved Flavour the high capacity 550mAh battery means these are great to keep as a backup or use while travelling or in other situations where you don't want to worry about having to carry e-liquid bottles and coils. The Elfbar is more portable with a smaller and slimmer design. Flavours include Blueberry Raspberry Pomegranate, Blue Razz Cherry, Cola, Mad Blue, Triple Mango and many more....
 
Features
550 mAh built-in battery
Pre-filled with 2 ml of 20 mg (2%) nicotine salt e-liquid
Lasts up to approximately 600 puffs
Easy to use, lightweight and compact
Mesh coil technology
Ultimate hygienic food grade plastic material (PCTG)
Size: 96.7 x 28.4 x 14.2 mm
E-Liquid capacity: 2 ml
Nicotine strength: 20 mg / ml
Puffs: Approximately up to 600
Our products are designed for adults 18 years of age and over.  All our e-liquids, with the exception of the 0mg eliquids, contain nicotine which is a highly addictive substance.  Nicotine containing products should not be used by pregnant or breastfeeding women or persons of ill health.  Our products are not for sale or use by anyone under the age of 18.  E-cigarettes and nicotine containing products should always kept out of reach of children. 
FAQs
How much nicotine is in a Lost Mary QM600?
The Elf Bar Lost Mary QM600 has a nicotine strength of 20mg. This will give you a nicotine kick similar to that of a cigarette. 
What's new in Lost Mary QM600 (QM600 vs BM600)?
In addition to sporting an improved coil compared to its predecessor BM600, the Lost Mary QM600 has a stylish appearance that is sure to draw glances from across the street. 
Is the Lost Mary QM600 rechargeable?
The Elf Bar Lost Mary QM600 is a disposable vape, meaning that it is not meant to be recharged or refilled. Once you are done, toss away your old device and grab a new one! 
What's the best Lost Mary QM600 flavour?
While this is highly subjective, our favourite Lost Mary QM600 flavour is Mad Blue. Expect an unusual mix of berries with a energetic twist.
---
Products Related to Lost Mary QM600 Disposable Vape - Mad Blue
---